Skip to Content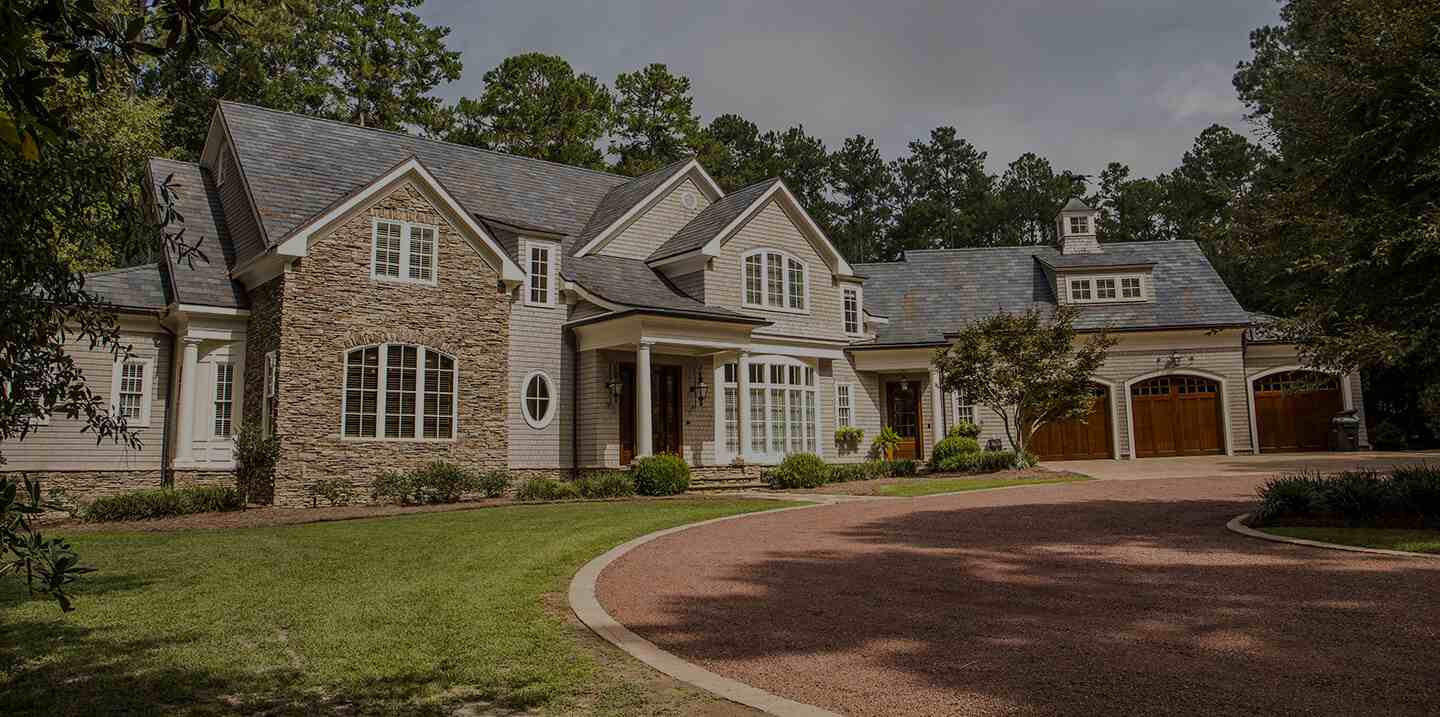 Experienced and Award Winning Roofer in Santa Cruz and Monterey Bay Area
Request a Free Estimate Today!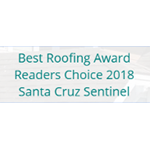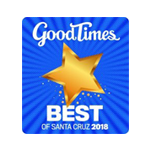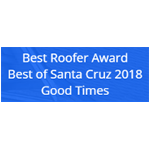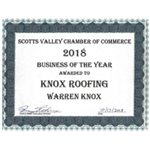 Professional Roofing Contractors in Santa Cruz, CA
For more than 40 years, the professional roofing contractors at Knox Roofing have provided premier roofing services throughout Santa Cruz, CA, Monterey County, and the surrounding areas. As the area's go-to local roofing company, our valued customers rely on us to provide them with the best services, and that's exactly what we do. From residential roofing to commercial roofing, we do it all. When it comes to working finding a local roofing company to partner with, it's essential to choose an experienced roofing company. Home and business owners have depended on our team of roofing specialists for more than four decades. We also offer free estimates and various financing options for our valued customers.
Our Comprehensive Services
At Knox Roofing, customers can expect a wide variety of comprehensive services, including roof repair, roof replacement, gutter systems services, home improvement services, and more. Below, we've gone into detail about each of the services we offer:
Roof Repair – Our team of licensed and insured roofing professionals is ready to diagnose and resolve any roofing issue you might be facing. Our roof repair services are affordably priced because we understand that you can't always budget for emergencies.
Roof Replacement – Over time, your roof can be damaged by weathering, storms, rot, and aging. Our team of roofing professionals will walk you through your options and provide you with a free estimate for roof replacement.
Gutter Systems – Quality gutters can protect your home from the elements and prevent damage from occurring. Our gutter installation experts can install new gutters if your home doesn't have any of your existing gutters are old and ineffective.
Home Improvement – In addition to a wide variety of roofing services, we also offer home improvement services to our valued customers throughout the local area.
Knox Gardens Box & Wood Shop – It's easy to create a smaller, more manageable, and prolific garden with a preassembled Knox Garden Box. Solve problems with overly compacted soil, poor drainage, voracious garden pests, damaged cold temperatures, and more.
Fire Treated- Knox Roofing offers many Class A, fire-resistant roofing materials including asphalt fiberglass composition shingles, concrete, and flat/barrel-shaped tiles.
Our Residential Roofing Services
The team at Knox Roofing offers various residential roofing services. We offer everything from composition shingles to concrete tiles. These services include, but are not limited to, the following:
Composition Shingles – These shingles have been used since the early 1900s and are currently used by four out of five homeowners. They are available in various styles, colors, and weights.
Clay Tile – Clay tile may cost a bit more than concrete, but you'll enjoy more benefits than you would with other roofing options. Clay roofs are durable and will outlast most roofing materials.
Metal Roofs – All our metal roofs are built to last, and we offer some of the best brands in the industry. Our roofing experts are happy to help you choose the perfect type of metal roof.
Synthetic Slate – These slates are inspired by the natural beauty of slate roof shingles. They can enhance a home's appearance and value. They also protect against the elements.
Wood Shake – Wood shakes are wooden shingles, and this roofing option is made from long-lasting and weather-resistant cedar for a rustic look. The angle of the grain is an important consideration. The three primary grain exposures are edge grain, flat grain, and slash grain.
Concrete Tile – Concrete tiles are an excellent choice as they offer an attractive aesthetic and are affordable. Concrete tile roofing is also a good insulator and keeps rainwater away.
Our Commercial Roofing Services
If your commercial business needs flat roof repair, you've come to the right place. The commercial roofing contractors at Knox Roofing specialize in repairing and replacing flat-top roofs. Our customers love flat-top roofs and the wide range of benefits they provide. Installation of this roofing type is generally faster and more affordable than other roofing styles. Additionally, this roofing type can open up your roof for other uses, such as a garden, lounge area, or space for solar panels. These roofs are easy to maintain and are safer than sloped choices.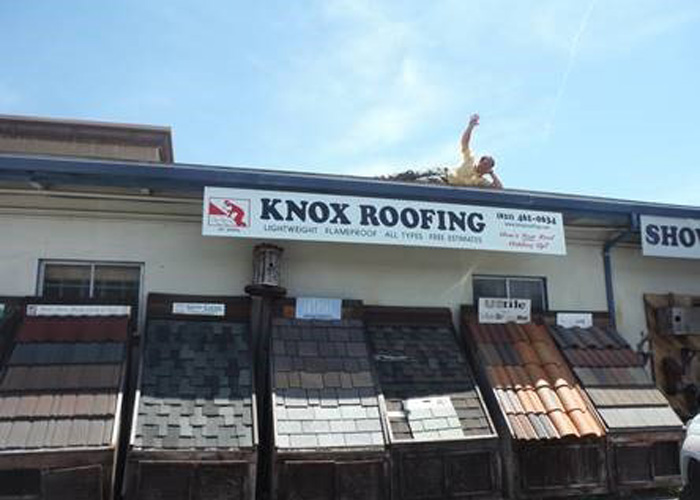 Why Choose Knox Roofing?
The expert team at Knox Roofing provides roof leak repair, roof shingles repair, emergency roof repair, and more. We boast more than 40 years of experience and are dedicated to serving the needs of Santa Cruz and Monterey County. Not only are we the go-to roofing contractors for our local community, but we also specialize in gutter systems, skylights, sun tunnels, attic fans, and ventilation for residential and commercial applications. Every time you hire us for a job, you can expect the job to be done right the first time and with high-quality, durable materials. We also offer free estimates and financing options.
Contact Knox Roofing Today
We hope you choose the highly experienced and -trained team at Knox Roofing to partner with for your next roofing or home improvement project. You can expect nothing less than the best when working with our expert team. Contact us today to schedule a free estimate or to learn more about the services we offer.
Customer-Centered Residential Roofing Specialists
We believe a successful roofing system requires more than just great craftsmanship and design. That's why at Knox Roofing, we provide customer-centered service and pride ourselves on Integrity, honesty, and hard work.
Call us today, 831-461-0634.
Reviews
Knox Roofing is a top notch company. I purchased my home in January knowing I needed to replace the roof. Warren was quick and accessible to get a bid put together. I planned to do the repair in July and they stayed in great contact with me up to the time of install to choose colors and other options.
Warren has his guys come out fast! They were knowledgeable and took care of the roof where it was leaking. Thanks Warren! Recommended!
We've personally used Knox Roofing 3 times. They did our Roof in Santa Cruz, CA 14 years ago, our flat roof areas 5 years ago, and just this year re-did our natural Wood Shingle Siding, all 3 times did an EXCELLENT job!. They are by far, the most professional, customer service oriented Roofing company I have ever used.
We had a great experience with Knox Roofing. We needed a new roof after our 23 year old original shake roof wore out. Mr. Knox came out and inspected our roof and quickly gave us a competitive estimate. We opted for the thirty year composition shingles. The workmen arrived promptly and in about 3 days the job was done. Here it is more than 15 yrs later and the roof is still water tight. Good job, thanks Warren!
Knox Roofing put a new roof on our house in September. The professional, competent and friendly service we received is unprecedented in our experience. The roof is extraordinary and every detail was looked after with expert care. The latest, greenest materials were used.
About 5 years ago, I had Knox roofing replace an upstairs deck of a 2-story deck with a waterproofing system, so the deck underneath would stay dry when it rains. Knox's crew were professional and polite. Warren rarely deviates from what is in the contract. The work is holding up well.