Skip to Content
Roof Inspections in Santa Cruz & Monterey County
Your Trusted Partner for Roof Inspections
At Knox Roofing, we take the task of roof inspection seriously. As a trusted partner in Santa Cruz and Monterey County, our aim is to ensure the longevity and integrity of your roof. Our comprehensive roof inspection services cover everything from pinpointing minor issues to identifying major structural damage. Knox Roofing provides fast, efficient, roof inspection for real estate agents, appraisals, home sellers and buyers, and more.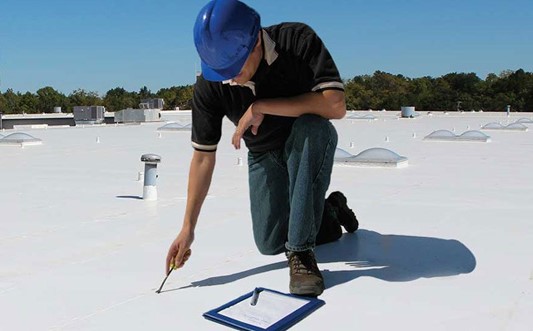 Accredited Roof Inspection Services
Whether it's a residential property or a commercial building, our highly experienced team can handle it. We are fully certified and adhere to industry standards, providing you with:
Comprehensive Roof Inspection – We meticulously examine your roof, identify any issues, and provide you with a clear understanding of its overall condition.
Objective Roof Analysis – Our goal is to provide an unbiased report that helps you make informed decisions.
Detailed Roof Inspection Reports – We furnish comprehensive reports after each inspection that details our findings, complete with pictures, analysis, and recommendations.
Ensuring Your Home's Roof Integrity
Home is where the heart is, and the heart of your home deserves the best care. Our residential roof inspection service offers:
Detailed Roofing Examination – We meticulously inspect every aspect of your roof.
Insight Into Possible Issues – We highlight potential problems before they escalate into significant damage.
Cost-Effective Recommendations – We suggest cost-efficient measures to ensure the longevity of your roof.
Comprehensive Commercial Roof Inspection
Commercial buildings have unique roofing requirements, and we're fully equipped to handle them. Our commercial roof inspection services cover:
In-Depth Structural Analysis – We assess the structural integrity of your roof to prevent potential hazards.
Professional Advice – We provide expert advice on necessary repairs or replacements.
Preventive Maintenance Plans – We suggest a maintenance schedule to prolong the lifespan of your roof.
Ideal Time for Roof Inspection
While roof inspections are crucial at all times, certain circumstances may necessitate a more immediate inspection:
After a Severe Weather Event – Inclement weather can cause unseen damage that could lead to more serious issues if left unattended.
Prior to Purchasing a Home – An inspection provides insights into the property's roof condition and potential roof inspection cost.
Regular Maintenance – Regularly scheduled inspections can help identify minor issues before they escalate.
What Our Roof Inspection Report Includes
At Knox Roofing, we believe in transparency. That's why our roof inspection reports provide:
Detailed Findings – Our report contains a comprehensive breakdown of our findings.
Photographs – We include high-quality images for clarity.
Recommendations – We provide a clear set of recommendations based on our findings.
Unreported Items in Our Roof Report
While our reports are thorough, there are a few aspects we don't cover:
Hidden or Inaccessible Areas – We only inspect visible and accessible sections of your roof.
Interior Damage – Our focus is primarily on the exterior roofing structure.
Cost of Repairs – Our reports identify issues and suggest solutions but do not include a cost estimate.
Overview of Our Other Services
In addition to our roof inspection services, we also offer:
Roof Repair and Replacement – We tackle both minor repairs and major replacements with the same level of expertise and dedication.
Preventative Maintenance – We provide maintenance services to help prolong the life of your roof.
Why Trust Knox Roofing?
Choosing Knox Roofing for your roof inspection service means opting for:
Certified Professionals – Our team is fully certified and experienced in conducting thorough inspections.
Exceptional Customer Service – We believe in a customer-centric approach, ensuring your satisfaction from the first contact to the final report.
Value for Money – We deliver premium services at competitive rates, maximizing the value of your investment.
Reach Out to Us Today
If you're looking for a reliable roof damage inspection or want to discuss our other services, we're just a call away. At Knox Roofing, we're ready to help protect your roof, property, and peace of mind. Contact us today!
Schedule Your Free Roofing Estimate